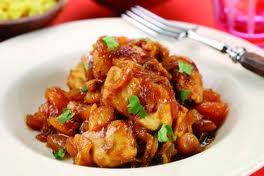 Serves: 2
25g butter
2 chicken breast fillets, diced
1 onion, sliced
4 garlic cloves, minced
3 tablespoons curry powder
1/2 apple, diced
1 stalk celery, chopped
1/2 red pepper, chopped
75g (3 oz) sultanas
500ml (17 fl oz) chicken stock
salt to taste
Prep: 10 mins | Cook: 20 mins | Extra time: 5 mins
Method
Melt butter in a heavy large frying pan over medium heat. Add the chicken and brown on all sides for about 7 minutes. Transfer to a plate.
Add the onion and garlic to the same frying pan and sauté for about 6 minutes, or until translucent. Stir in the curry powder. Return chicken to pan. Add the apple, celery, red pepper, sultanas and stock and season with salt.  Cover and simmer for 10 minutes, or until the sauce thickens. Serve with rice.
Tamato, avocado and mango salsa
Serves: 6
1 mango – peeled, stone removed and diced
1 avocado – peeled, stone removed and diced
4 medium tomatoes, diced
1 fresh green chilli, seeded and minced
small bunch fresh coriander, chopped
3 cloves garlic, minced
1 teaspoon salt
2 tablespoons fresh lime juice
half a small red onion, chopped
3 tablespoons extra-virgin olive oil
Prep: 40 mins
Method
In a medium bowl, combine the mango, avocado, tomatoes, chilli, coriander and garlic. Stir in the salt, lime juice, red onion and olive oil. To meld the flavours, refrigerate for about 30 minutes before serving.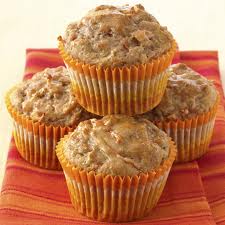 Serves: 12
170g (6 oz) soft dark brown sugar
100g (4 oz) caster sugar
320g (11 oz) plain flour
2 dessertspoons bicarbonate of soda
1 teaspoon baking powder
2 dessertspoons ground cinnamon
1 dessertspoon salt
225g (8 oz) finely grated carrots
2 large apples – peeled, cored and shredded
3 dessertspoons liquid egg white (such as the brand Two Chicks)
10 fl oz apple purée
4 tablespoons vegetable oil
Prep: 20 mins | Cook: 20 mins
Method
Preheat oven to 190 C / Gas mark 5. Grease muffin tin, or line with paper muffin cups.
In a large bowl, combine brown sugar, caster sugar, flour, bicarbonate of soda, baking powder, cinnamon and salt. Stir in carrot and apple; mix well.
In a small bowl, whisk together egg whites, apple purée and oil. Stir into dry ingredients.
Spoon batter into prepared tin.
Bake in preheated oven for 20 minutes. Let muffins cool in pan for 5 minutes before removing from tin to cool completely.
Quorn Cottage Pie with Sweet Potato Thatch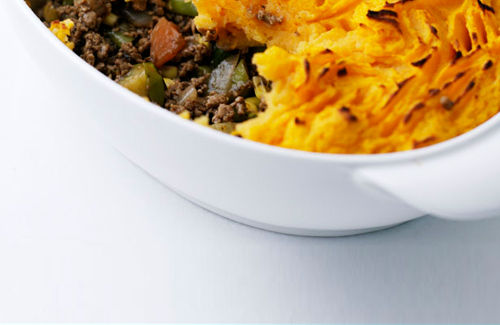 500g potatoes, peeled and cut into chunks
500g sweet potatoes, peeled and cut into chunks
Low fat cooking spray
350g Quorn mince
1 small onion, finely chopped
1 carrot, finely chopped
1 courgette, finely chopped
100g green beans, chopped
1 tsp dried mixed herbs
50g sweetcorn, thawed if frozen
4 tsp gravy granules for vegetables
Salt and freshly ground black pepper
Method
Cook the potatoes and sweet potatoes in a large saucepan of lightly salted boiling water until tender – about 20 minutes. For a change, use butternut squash instead of sweet potatoes, or just plain mash. Meanwhile, spray a large saucepan with low fat cooking spray and add the Quorn mince and onion.
Stir in the carrot, courgette, green beans and mixed herbs. Add 450ml water and bring up to the boil. Simmer uncovered for 20 minutes.
Preheat the grill and warm a large baking dish under it for 1-2 minutes. Drain and mash the potatoes, seasoning with salt and pepper.
Add the sweetcorn to the mince mixture, then sprinkle in the gravy granules, stirring until thickened. Season if needed, then tip into the baking dish.
Sweet Potato & Carrot Patties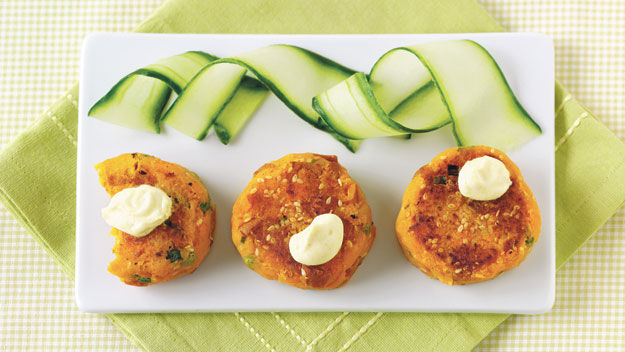 450g sweet potatoes, cut into cubes
225g carrots, cut into thin rounds
1 tbsp sesame seeds
3-4 spring onions, trimmed and sliced into circles
Wholemeal spelt flour, for coating (optional)
4 tbsp Greek yogurt
½ tsp curry powder
Sliced cucumber, to serve
Method
1. Put the sweet potatoes and carrots in a steamer and steam, covered, over boiling water for 20 minutes or until soft. Meanwhile, put the sesame seeds in a medium saucepan and heat over a medium-low heat for 3–4 minutes, shaking the pan occasionally, until the seeds begin to brown and just start popping. Set aside.
2. Preheat the grill to medium.
Put the sweet potatoes and carrots in a bowl and mash with a fork, then mix in the sesame seeds and spring onions.
Shape the mixture into 12 balls of equal size, then flatten into 6cm patties about 2cm high. If they are very sticky, sprinkle both sides with flour and put on a baking sheet.
Grill for 5 minutes on each side until warmed through and lightly browned.  Meanwhile, put the yogurt and curry powder in a small bowl and mix well.
Serve the patties warm with the sauce and sliced cucumbers.
Tip: The cooked patties can be stored in the fridge for up to 3 days.